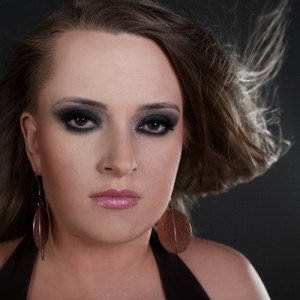 Agnieszka Iwanska is an accomplished and gifted jazz vocalist, composer and lyricist. Her sultry and sensitive singing style stands out as a fresh and exciting voice in jazz. As a vocalist, Agnieszka has been hailed as the voice of promise by noted jazz critic Howard Reich from the Chicago Tribune. Mr. Reich also mentioned that the size of her alto and and the obvious maturation of her delivery brings her to a new artistic level . Brad Walseth of jazzchicago.net praised her style and performance by nothing that Like Basia, Iwanska is a Polish singer who has taken on the Brazilian sound pioneered by Astrud Gilberto. She sings her well-written songs showing considerable ability, and charms the crowd with her fresh and honest approach. Agnieszka is a graduate of the Jazz Studies program at the University of Katowice, Polands only accredited jazz program. While in Poland, Agnieszka had the opportunity to perform with some of the countrys top jazz talents. After arriving in the US, Agnieszka formed her own band; a quintet featuring some of Chicagos talented jazz musicians. The Polish TV Polvision and Polsat 2 made a few programs about Agnieszka. Iwanska received an award Polonus 2008 as an Artist of a Year in most prestigious contest among the Polish community in Chicago. Agnieszka and her band perform throughout the Chicago area. Among her numerous achievements, Agnieszka received first prize in the Krokus Jazz Festival and second prize in the International Competition of Jazz Vocalists in Zamosc, Poland. Working with keyboardist/composer Paul Scherer, Agnieszka completed her first full-length CD of original material. It's titled All That I Am. CD features songs in English and Polish, all written and arranged by Iwanska and Scherer. All That I Am got excellent reviews from jazz critics. It was on the playlist of 110 radio stations nationwide (including the biggest global platform Smoothjazz.com). It also was number 38 on the Top 50 National Indie Chart for 15 weeks. Agnieszka was the first Polish born vocalist to sing the National Anthems at the Wrigley Field in Chicago. In 2011 Agnieszka was one of the headliners of the Third Ward Jazz Festival in Milwaukee WI and Napervillle Jazz Festival. Agnieszka has recently released her 2nd CD "Colors" produced by Paul Scherer. It got released under the name of UroSoule. It's getting some great reviews from well-established music critics. Agnieszka's unique sound is not to be missed. Her unmistakable honesty and lack of pretension stand out as hallmarks of a talent worth getting to know.
Wokalistka, autorka tekstów oraz kompozytorka. Od 10 lat mieszka i koncertuje w Stanach Zjednoczonych. Jest absolwentka Wydziału Jazzu i Muzyki Rozrywkowej Akademii Muzycznej w Katowicach. W Polsce pracowała jako solistka, jak również muzyk sesyjny. Współpracowała z czolowka polskich muzykow jazzowych. Agnieszka jest laureatka oraz finalistka kilku konkursów jazzowych – m.in Krokus Jazz Festiwal w Jeleniej Górze, Spotkania Wokalistów Jazzowych w Zamościu, Bielska Zadymka Jazzowa. W 2001 roku wraz zespołem Bieszczadersi wystąpiła podczas koncertu Debiuty na Festiwalu Polskiej Piosenki w Opolu. Kariera Agnieszki w Stanach rozwija się w piorunującym tempie. Została nazwana "the voice of promise" przez krytyka jazzowego Howard Reich'a pracującego dla Chicago Tribune. Brad Walseth z WNUA-FM porównał styl Agnieszki do Basi Trzetrzelewskiej i Astrud Gilberto. Wokalistka otrzymała nagrodę Polonus 2008 oraz Polonus 2013 w kategorii Artysta Roku. W 2009 roku okazał się debiutancki album Agnieszki zatytułowany "All That I Am" zawierający autorski materiał. Płyta została gorąco przyjęta przez krytyków muzycznych i szturmem zdobyła "playlisty" ponad 110 amerykańskich rozgłośni radiowych (w tym największej globalnej platformy internetowej Smoothjazz.com), utrzymując się na 38. miejscu na prestiżowej amerykańskiej liście Smooth Jazz Top 50 przez 15 tygodni. Agnieszka Iwanska, jako pierwsza Polka, zaśpiewała Polski i Amerykański Hymn dla 40-tysięcznej publiczności przed meczem drużyny baseballowej Cubs, na Stadionie Wrigley Field w Chicago. Była jedna z gwiazd wielu amerykańskich festiwali jazzowych.
UroSoule
is an infectious original jazz/soul created by Chicago-based duo of Paul Scherer and Agnieszka Iwanska. "Colors" is a collection of original sultry and sophisticated compositions co-written and produced by Paul Scherer. Scherer assembled a collection of top session musicians from Philadelphia to Los Angeles to create an addictive blend of original works that pulse with attitude and style.